Objectives
The objective of this study is to develop a chronological method by physical attributes of steel/iron building parts to date vernacular structures in the British Colonial Period in developing countries in Asia. Unlike monumental architecture, vernacular structures have not been evaluated very much in their role in a cultural history, but they are potentially very important in the understanding of the culture, and in generating pride of native culture. A difficulty involved in such historical vernacular structures is that of dating them accurately because of the paucity of associated documents suggesting building dates. Therefore, it is difficult for researchers to construct a design history that incorporates vernacular architecture. Archaeology makes use of certain observable attributes of artefacts, such as physical dimensions of parts, and stylistic characteristics, as datable indicators. Following this archaeological method, this study attempts to develop a dating method of these buildings by using the physical attributes of iron/steel parts.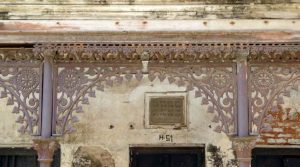 Surveys in 2016-2017
Melaka, Malaysia, 8. Aug: Town survey.
Kuala Lumpur, Malaysia, 12. Sep: Buildings around Merdeka Square: Kuala Lumpur Station, Railway Company Office, Old Post Office, Government Printing Office, Panggung Bandaraya DBKL. Recorded items: cast iron posts, ironmongeries.
Penang, Malaysia, 13-15. Sep: The World Heritage area of George Town: Church Street Pier, Campbell Street Market, Logan Heritage Building, shop houses. Recorded items: cast iron parts, makers' marks, cross-sections of steel beams, plans
Singapore, 17-18. Sep: Tanjong Pagar Railway Station, Lau Pa Sat Festival Market, National Gallery Singapore. Recorded items: cast iron parts, ironmongeries
Sydney & Melbourne, Australia, 8-15. March: to be conducted
Research activities in this year are summarized by two senior reports by A. Kumasaka (Tani-Lab) and A. Yano (Inoue-Lab) .
The study of this year is productive in several ways. It shows where and what to look at to understand the production of colonial buildings and their dating. This study will attempt to gather more information in other places of the former British colonies this year including Australia, Bangladesh, and possibly Myanmar. These surveys will hopefully find new clues on dating by iron/steel parts to build a more comprehensive dating method of British colonial buildings.
Study 1: Possibility of dating colonial building based on attributes of iron/steel parts by A. Kumasaka
The objective of this study is to examine methodological possibility of dating colonial buildings by referring to attributes of iron/steel parts used in them. Three types of attributes were examined and analyzed.
1. Cross-section of I-beams and H-beams:
The figure shows cross sectional measurements of an I-beam recorded at Church Street Pier in George Town, Penang. By comparing these measurements and those listed in Dorman & Long catalogues in different editions (1895, 1906, and 1924), we concluded that this beam may have been produced between 1895 and 1906.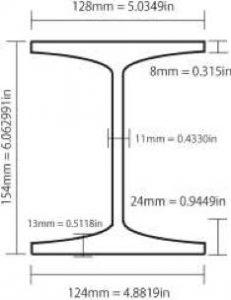 2. Makers' marks:
Steel beams and other products carry their makers' marks and inscriptions. The inscription of a beam reads "FRODINGHAM IRON & STEEL CO LTD ENGLAND". Before 1904, this company's name was "FRODINGHAM IRON & STEEL CO" without "LTD". Then, the company name changed to "Appelby-Frodingham Steel" in 1912. Therefore, we know the particular beam of interest was produced between 1904 and 1912.
3. Style of cast ironmongery:
Styles of cast iron ornamental parts, grills, gutter heads, gates, and others are compared with those listed in old catalogues. Although several items resemble those listed in catalogues, their identities are inconclusive because other possibilities such as copying cast molds and recasting, cannot be ruled out. Therefore, it is necessary to cross check with other lines of evidence in order to conclusively identify the production years of cast iron-mongeries.
Study 2: Movements of people and iron/steel materials from the British Isles to its colonies in South-East Asia by A. Yano
The objective of this study is to examine the physical movements of people and materials from Britain to SE Asia in order to understand the background of structures in SE Asia during the Colonial Periods.
Development ofoceantransportation:
Theadvancement of the British Empire into SE Asia started in 1786 when it reached Penang followed by the colonization of Singapore and the Malacca Straight in 1819 and 1826 respectively. The end of monopoly in Asian trade by the East Indian Company in 1834 opened the door to many shipping companies. Among them, Peninsula & Oriental Navigation Co. (P & O Co.) became a major player which established regular service from England to Hong Kong by way of Singapore. The ocean traffic between Europe and Asia surged after the construction of the Suez Canal in 1869 because it facilitated to cut the travel by some 50 days. These developments laid the foundation for sending iron/steel building materials in quantity from Europe to Asia.
Movements of skilled people:
As British colonies expanded in Asia, skilled people who moved there also increased. According to the records of Royal Institute of British Architects (RIBA), 17 members of RIBA were working in SE Asia between 1870 and 1930, 9 in Singapore, 4 in Malay, 3 in Rangoon, and 1 in Penang. Meantime, Swan and MacLaren Associates, one of the major architecture firms in SE Asia, established in 1884 in Singapore, engaged in many major construction projects in this area. Among the RIBA architects, A. J. Bidwell played an important role with Swan & MacLaren in colonial architecture in Singapore. Bidwell designed major architecture including Raffles Hotel and Victoria Theatre when he was associated with Swan & MacLaren, and Atbara House and Butterfly House when he was independent.
Production and Distribution of Iron/Steel Building Materials:
Cast iron became available after 1820 for building parts and materials. Wrought iron parts were produced for architecture soon after that. Then, in the 1880s, the Bessemer converter method was invented that made inexpensive steel production possible, and many companies started commercial steel production. One of new comers of these companies, Dorman & Long started to produce steel I-beams by rolling method in 1885, and it actively expanded their business in Asia. During our survey in Malaysia and Singapore, steel beams by Dorman & Long were identified in several different buildings and contexts.